Snowflake Mountain Season 1 Episode 4
0
(No Ratings Yet)
Loading...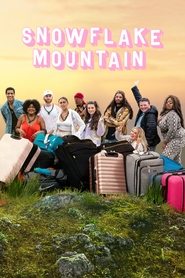 Snowflake Mountain Season 1 Episode 4
A new snowflake brings up the past and tests the group's adaptability. The campers must punch through pieces of wood, but not everyone has the oomph.
Episode Title: It's Nothing Personal
Air Date: 2022-06-22
Year: 2022
The New V.I.P.'s
The New V.I.P.'s
A group of low-level employees take control of a major corporation after accidentally killing their boss.
Fantasy Island
Fantasy Island
This contemporary version of the classic drama series delves into the "what if" questions that keep us awake at night. Each episode tells emotional, provocative stories about people who walk…
Missions
Missions
The first manned mission to Mars is now approaching the red planet. The crew includes top-flight scientists and a young female psychiatrist, responsible for their mental health. But just as…
Lucha Underground
FX: The Series
Bless This Mess
Bless This Mess
After dropping everything to make the move from skyscrapers to farmhouses, Rio and Mike soon realize that the simpler life isn't as easy as they planned.
Netflix Presents: The Characters
Netflix Presents: The Characters
No rules. No expectations. A half hour to make their mark. Eight different comedians each get an episode to show their skills in comedy.
Grand Crew
Grand Crew
A group of young L.A. professionals navigating the ups and downs of life and love. When they're ready to unpack it all, they meet at their favorite local bar for…
Little Big Shots: Forever Young
Little Big Shots: Forever Young
Not Available
Hospital
Hospital
The story of the NHS in unprecedented times.
Humans
Humans
In a parallel present where the latest must-have gadget for any busy family is a 'Synth' – a highly-developed robotic servant that's so similar to a real human it's transforming…
The 4400
The 4400
4400 centers on the return of 4400 people who, previously presumed dead or reported missing, reappear on Earth. Though they have not aged physically, some of them seem to have…